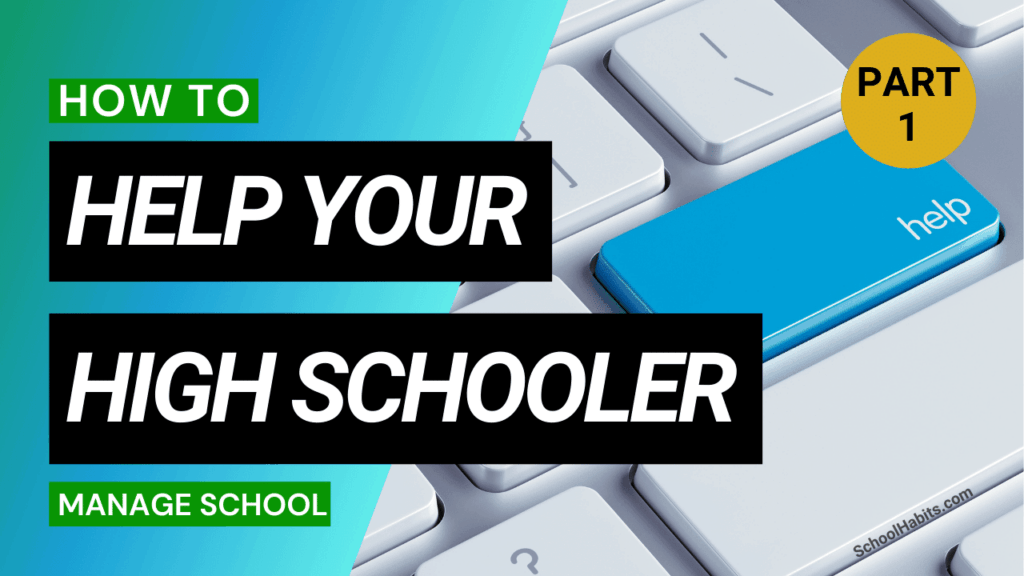 By Katie Azevedo, M.Ed.
This is Part 1 of a series about how parents can help their child manage high school. Read Part 2.
Parents of high school students have a unique challenge in finding the balance between helping their child be successful, and encouraging their child to be an independent learner.
Some folks might think that helping their child means hijacking their kid's slide presentation and sprucing it up with expert-level graphics, or writing their child's essay for them.
This type of intervention couldn't be further from helping.
If you have a high school child, helping doesn't mean stepping in at the 11th hour to do their assignments: helping is about teaching them the skills to be independent learners themselves.
Three ways parents can help their child manage high school
1. Teach your child how to ask for help.
If you don't teach your child the tools, language and self-awareness to ask for help, they'll forever wait for someone to swoop in and save the day. This is disastrous.
Teaching a child to ask for help includes how to recognize when they're struggling, how to write a proper email to a teacher, and how to ask for help in a way that's specific instead of vague. For example, we should teach our children to identify "I need help writing my essay's conclusion," instead of "I can't write my essay."
This is called self-advocacy and it's a keystone of learning. If you need a resource to teach this skill to your child, use this.
2. Teach the pillars of time management.
If your child is in high school, he or she should be managing their own time. They should have their own calendar system – analog or digital – and should utilize reminders.
Parents should explicitly teach their child how to plan their weeks and their days so that they have enough time to get their work done. Teach how to set reminders and think concretely about time.
While honing the discipline for time-management can be challenging, the basics of time-management are incredibly simple:
Sit down with a calendar.
Inventory all activities, including homework, time for studying, sports, and appointments.
Fit the activities from step 2 into the time available each day.
If there's not enough time to do all the things, do less things. This basic skill needs to be explicitly taught.
3. Check in frequently, and know what's going on.
Each child is going to require a different level of parental monitoring. Some might need daily check-ins, while others might be fine with weekly check-ins.
But the idea is that we as parents should have a general sense of what's going on in our student's academic life. We should know about big tests, presentations, games, important due dates – things like that.
During these regular check-ins, ask about what's coming up for the week, and how they're feeling about things. Ask about grades and teachers. If you pose a general question like "How are things going?" and you get an unconstructive and general answer like "Fine," then ask a more specific question.
These check-ins show your kids that you care, give parents the chance to assess the big picture, and set the expectation that if things are not going well, they need to be acknowledged and addressed.
Final notes
Overall, parents who want to help their high schooler succeed at and manage school should be thinking of ways to help their child help herself.
Teaching skills #1 and #2 above (self-advocacy and time-management), as well as providing an opportunity for connection (#3) will serve your child far, far beyond high school.
Read Part 2 of this series for parents about how to help your child manage high school .