By Katie Azevedo, M.Ed.
E-learning is not a new concept, but many students around the world have been thrust into virtual school with no warning, thanks to the Coronavirus.
So I thought I'd share some basic tips for e-learning that might make this experience a little easier for you.
E-learning can look different for everyone, depending on the platform your teachers use. Some use Google Classroom, Zoom, Canva, Apex, or lord knows what else. Regardless of your platform, these tips should be applicable.
Tips for e-learning
1. Have a designated work space. When you're in school, you sit at a desk. You don't lay on your bed or the couch. When you're doing virtual school, you should set up a desk or a table somewhere for dedicated learning space. Keep it neat. Keep it supplied. Don't clutter it with snacks or anything else unrelated to your learning. Here's how to create a study space depending on your learning style.
2. Schedule your time. If you think you have about 3 hours of work to do, figure out when you're going to do it – before you sit down to do it. Write it out. Plan what time you will begin, and what time you will stop. Humans need routine, and so does your brain.
Let's say hypothetically that you're … oh I don't know … quarantined during a pandemic … then time might have a different feel to it. For some of us, time goes by slowly, and for others it goes by way too quickly. When you're e-learning, we can't trust our typical "time-management" inner senses. Now is the time to use a calendar, a timer, a planner, etc. No need to schedule every second of your day – but at least map out your "school" time.
3. Print everything you can. The nature of e-learning is obviously that everything is digital. That means that you're potentially going to be staring at a screen for a while. Teachers are going to assign online articles, worksheets, textbook excerpts. But this learning method does NOT work for everyone.
No matter what platform your digital readings are on, you can find a way to print them. You can copy and paste text from an online textbook into a Google doc and print that – and then you can step away from your screen to read and annotate on actual paper.
You can even print out your math worksheets, do the work on the paper, and then scan and send a pic of the worksheet to your teacher.
Print the pdfs, write on them, and mark them up. And then put all your papers into a folder in case you need them again to answer questions, write an essay or take an online test.
If you have to read digitally, make sure you have some way to mark up your readings or take notes. Some programs like Notability allow you to take notes right on the screen, but not all programs have that ability.
If you're reading from a screen that doesn't allow you to take notes, try a split screen with Google Docs so you can take your notes in a different place as you read. Or copy and paste the original text into a Google Doc, and then as you read it, highlight or bold (using basic functions) what you need to. Or you could even annotate using the "Add Comment" feature, as shown in the image below.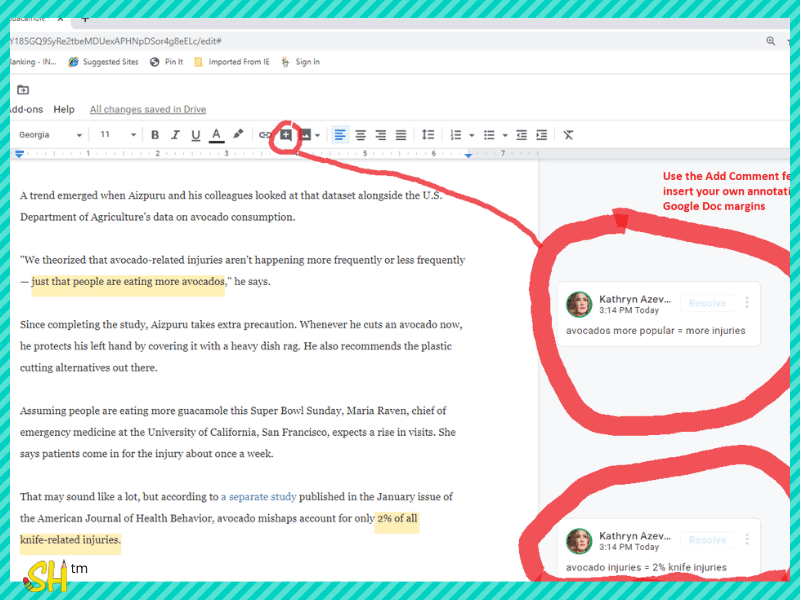 4. Use Google Images. If the material you're learning online isn't making sense for whatever reason, then try using Google Images to get the information another way. When you do a Google Image search (instead of regular Google search) you will get valuable visual information that might make more sense than what your teacher is offering.
Google Image results offer graphics, timelines, infographics, charts, and even lesson plans from other teachers who have submitted content to the web. Use this these alternative resources!
Of course you can use videos too. My point is, if the material doesn't make sense to you, don't call it a day. Use your resources.
5. Submit assignments on time. Doing your assignments is great – but only if you remember to submit them. Use reminders in your phone to submit everything by its deadline.
6. Use a text reader. If you have a ton of online readings, you can break them up by occasionally using a text reader. If you have something robust like Dragon Naturally Speaking, then that's great (but costs money). There's a Google Chrome Extension called Vox that you can install for free. It reads aloud text on your Google Docs. It's not perfect, but it's a decent option if you have a lot of reading and you don't mind being read to by a robot.
7. Keep track of assignments on paper. Sure, your online platform might let you know what assignments are coming up and when they're due – and that's great — but other programs don't do that.
I suggest writing down all your to-dos on paper so you don't have to dig around and search for assignments that may get buried beneath other postings. You don't have to be fancy – use whatever tracking system you would use for traditional in-person school, or even just a regular old notebook. Regardless of what you use, use something other than the e-learning platform itself. Here are some assignment notebook hacks.
Whether you're new to digital school (thanks, Coronavirus!) or you've been doing it a while, these tips for e-learning can help you be more productive and will hopefully help you learn your material a little easier.