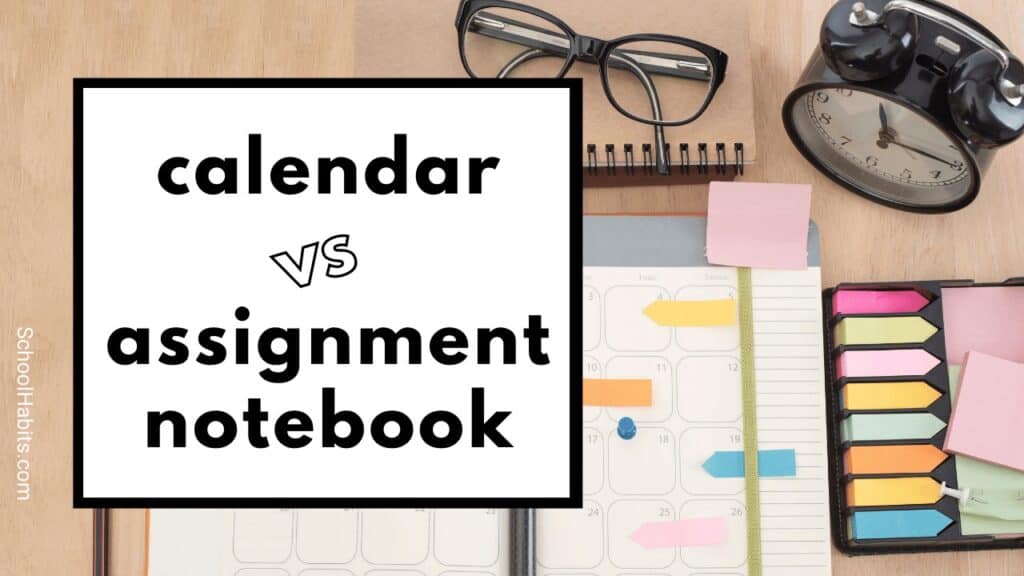 By Katie Azevedo, M.Ed.
I'm frequently asked about the difference between a calendar and an assignment notebook. They are not the same. At all. While both are essential pieces of a student homework-management system, they each have a unique function. The bottom line: Neither a calendar nor a basic assignment notebook is sufficient alone, and they should instead be used together.
All student planners (assignment notebooks) come with a weekly spread. A weekly spread could be on one page of the planner or it could span two pages.
Some student planners come with a monthly calendar. Usually, a monthly calendar spans two pages, with or without monthly tabs for easy flipping. A calendar by itself, without a weekly spread, is not a sufficient homework management system.
When choosing an assignment notebook (here's how to pick one), pick one with both a monthly calendar and a weekly spread. (Here's a good, basic assignment notebook suggestion, or this one too.) Why? An ultimate homework management system requires that students keep track of two different types of information:
Time-sensitive information
Tasks and assignments
If you'd prefer a single, one-page homework tracker, try this daily homework tracker here or this weekly homework planner here. I have made them with love, of course.
What about digital calendars?
Digital calendars are excellent, as long as you use them consistently. If you only use your digital calendar sporadically, you won't trust it, and if you don't trust it, it won't work. If you want to use a simple assignment notebook with just a weekly spread, and then use a digital calendar for the calendar component, go ahead. 
Here is my complete step-by-step tutorial on how to use Google Calendar for school.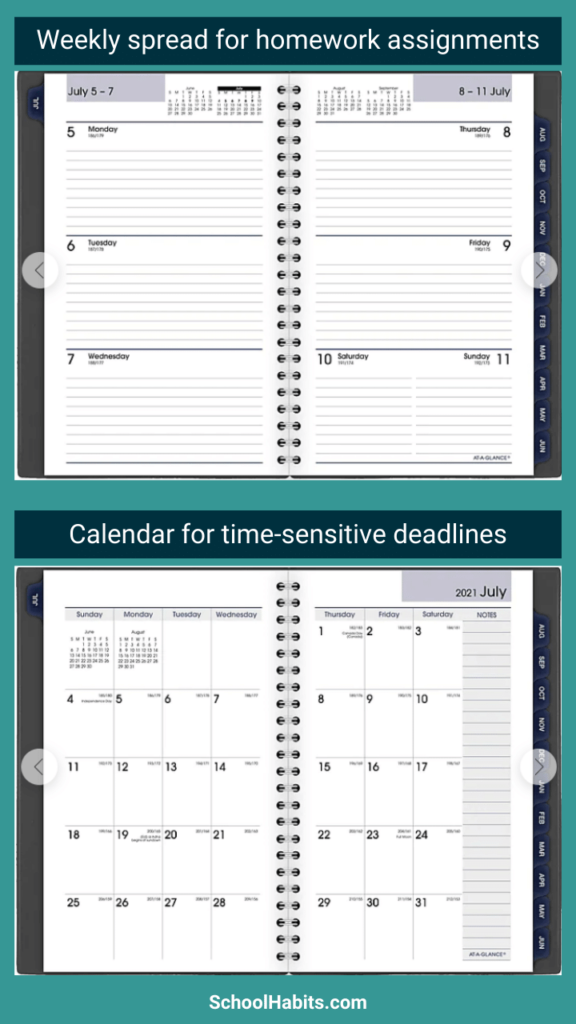 What goes on a calendar?
The calendar section of an assignment notebook is for time-sensitive information, excluding daily homework assignments. This includes the following items:
Project deadlines
Tests and quizzes
After school meetings
Field trips and special events
Early releases and early dismissals
Job hours
Practices and games
Appointments
Reminders to bring something to school on a particular day
Again, the calendar section is not where you write your daily homework assignments.
What goes in an assignment notebook?
The weekly spread of an assignment notebook is for nothing other than homework assignments. This is where you simply list out the homework you have to do for each class. Don't forget that studying for tests is an implied assignment. Teachers won't always tell you to study before a test, because that's the expectation – so write down your study sessions as if they are homework assignments.
In each daily space, list your assignments by class, like below:
Math: worksheet; page 167 in textbook #4-28
English: read chapters 4 and 5 in To Kill a Mockingbird
Science: Edpuzzle
History: write 3rd body paragraph for essay; find another primary source
Spanish: Study imperfect vs preterite endings for Friday's quiz
Write down all assignments on the day they're assigned, not on the day they're due. For example, if you are assigned a math worksheet on Monday that's not due until Thursday, write math worksheet in Monday's space, not Thursday's space. If you don't get to it Monday, rewrite it in Tuesday's space on Tuesday. This post here explains exactly how to use 3 specific symbols in your assignment notebook for this exact purpose.
Once you write down all your assignments, get to work and do them. Don't know what to do first? Here's a simple 4-step method for prioritizing homework.
Final notes on the perfect homework management system
The calendar vs. assignment notebook debate isn't that complicated, but it certainly comes up a lot with my students and their parents. The truth is that you really need both in order to have a fully functioning homework management system. Whether you use a digital calendar or an analog calendar doesn't matter too much, but I hold tight to my suggestion of using an analog assignment notebook. Whatever you do, you can not rely on your memory for keeping track of homework and due dates; that's not a thing, it's silly, and you are way smarter than that.
Are you a parent? Here's my FREE downloadable 10-page Guide To Teaching Your Child Time Management Skills. It's really free. Nothing spammy or weird.