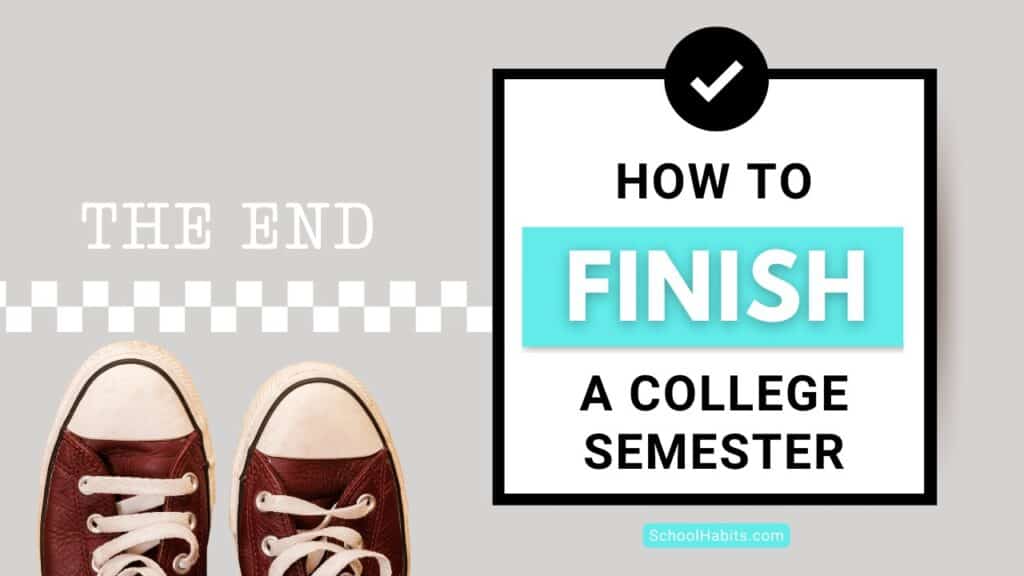 By Katie Azevedo, M.Ed.
This blog post teaches you 10 tips for how to finish a semester in college. I suggest you consult the list below whenever your wrap up a college semester. For most students, that would be twice a year: once before winter break and once before summer break.
How to finish a semester in college – the right way
The following 10 tips will help you organize your ending semester, get ready for the next semester, and evaluate your status to ensure you're headed in the right direction. If you're coming to the end of a school year, you want to use these 5 tips for finishing a school year strong.
1. Turn in all assignments.
This is a no-brainer. If you want to finish a college semester right, you can't have any outstanding assignments. Late is better than never, and so if you've been questioning whether or not it's worth it to hand in that essay that's already late, turn it in.
As your semester is coming to a close and you're feeling overwhelmed with completing current assignments and late assignments, use my 2:1 Ratio Strategy…. Work on two current assignments, and then one late one. Repeat. (I've come up with this ratio after nearly 17 years of teaching – it works.)
2. Extract all coursework from the LMS and save it to your own computer.
College courses are expensive and you're paying for all the materials that your professor shares through your learning management system (LMS). Therefore, you should be able to keep those resources for good. Before the semester ends, make sure to download and save pdfs, slides, articles, etc. to your computer.
3. Organize your digital files and put them in a folder.
When you finish a semester in college, you should move all of your class files into a digital folder. Name the folder the same as your course name. Inside the folder, put all of your downloaded course materials from Tip #2 above, as well as all your own files related to the course (essays, labs, etc.).
4. Clean out your downloads folder and desktop.
The end of a semester is a good time to clear out the two primary junk collectors on your device: your digital desktop and your downloads folder. Go through all the files in your downloads folder and either move them to the right location or delete them. Use the same process for your desktop.
5. Sell your books.
College textbooks are crazy expensive. Unless you think you'll really need that textbook in the future (super unlikely), sell it and get some cash. You have a few different options when selling your college books. First, try your college bookstore; sometimes they will buy back the books, or let you trade in the old book for a book you'll need next semester. Or, you could try something like BookScouter (I heard it's great but I've never personally used them). A third option would be to sell your book on Amazon.
6. Evaluate your courses and the path you're on.
After freshman year, most of your college courses are going to be determined by the major and minor you've chosen. As you finish a semester, you want to evaluate whether you think you're still on the right path. In other words, if you hated all of your science courses this semester, does it still make sense to be a biology major? If you struggled in all of your economics and marketing courses, do you still want to be a business major? These are questions to ask yourself. If you haven't yet chosen your major or minor, start here.
7. Check in with your GPA.
Your GPA doesn't always tell the whole story, but it's a good indicator of how things are really going. The end of a college semester is a good time to check in with your GPA and evaluate whether it's where it needs to be. One day, in the far future, your college GPA won't matter thaaaaaaaat much, but it does matter when you graduate college and apply for your first job. One funky semester won't ruin your graduating GPA, but two funky semesters in a row could do some damage.
8. Prepare for next semester.
Woo hoo! You finished a college semester! Take 10 seconds to celebrate and then start getting ready for the next one. Just kidding. Kind of.
As you wrap up a semester, especially the first semester of the year (ending in December for most students), take a look ahead at what you've got coming for the spring semester. What courses will you be taking? What will your schedule look like? Which days are going to be heavy coursework days and which ones will be lighter? What books will you need? (Get them.)
College students should absolutely be planning out their schedules and time using Google Calendar. Here's my complete Google Calendar Tutorial for Students.
9. Evaluate your study habits.
Finishing a semester in college involves more than turning in your last assignment and archiving your course in your LMS. Proper closure involves evaluating how you handled the recent semester so that you can either continue what's working or drop what's not working for the next semester. Were you stressed out? Did you procrastinate too much? Could you have managed your time better? How were your study habits?
Here is my Complete Student Self-Assessment Tutorial that walks you through all the areas and questions you should ask yourself at the end of each college semester. You can also use my free Student Self-Assessment Quiz (it's kind of awesome – hehe) to pinpoint exactly what areas you need to work on.
10. Thank your professors.
Gratitude is magic, and it's always the right time to express it. Even if you didn't love your professor, thank him or her for their time and effort over the semester. You can do this in person, or a brief email works as well.
Here's a simple email script you can use to thank your professors:
Dear Professor ______,
I want to express my gratitude for your support this semester in __________ (name of the course). I learned so much from your instruction, and I truly valued our time spent together in the classroom. Wishing you a restful break!
Thank you again – for everything.
Sincerely,
__________ (your name)
Conclusion
Now that you know how to finish a semester in college, I want you to keep this list handy so you can use it after all your semesters going forward. Just doing these 10 simple efforts goes a long way toward keeping you organized for now and for the future.