By Katie Azevedo, M.Ed.
If you're a student of any age, you should know how to make and use cheat sheets. Cheat sheets are an incredible way to organize and learn information faster, whether you're a middle schooler, graduate student, or professional.
If you'd prefer the video version of this tutorial, then here you go:
What is a cheat sheet?
A physical resource that you create
A concentrated version of everything you need to know for a test, unit or a class, all in one central location
Usually contained to the front and back of one 8.5 x 11 piece of paper
Different from class notes (so you need to have a solid notetaking system too)
Cheat sheets vs. class notes
Cheat sheets are like a concentrated version of your class notes. Your regular class notes include everything, and the information is much more general. On the other hand, your cheat sheet will include only the MOST important information.
You can build your cheat sheet with information that you pull from your class notes, so they go hand in hand.
How to make a cheat sheet
The most important step to creating a cheat sheet is to create it over a period of time, usually for however long you cover a topic in class. In other words, you should start making your cheat sheet on the first day of a new unit, and then add to it every day until that unit is over.
You should have a different cheat sheet for every class, and you could have multiple cheat sheets for each class, creating a new one every time a unit changes.
Bring your cheat sheet to class everyday so you can add items to it during class, and then have it with you during your homework so that you can add it while you're at home.
I recommend taking general class notes during class, and then adding select information from your notes to your cheat sheet after class, once you've had a chance to review your notes and figure out what's important and what's not.
Analog vs. Digital
I urge you to make your cheat sheet by hand, instead of on the computer. First, science says we better process information when we write it, as opposed to typing. Additionally, you'll be able to fit more information on the page, and you'll be able to add to the document regularly before or after class without having to take out the screen, find the file, mess with the formatting, or deal with Wi-Fi. Quickly accessing your cheat sheet and adding to it without fuss is a key part of the process – and paper has this advantage.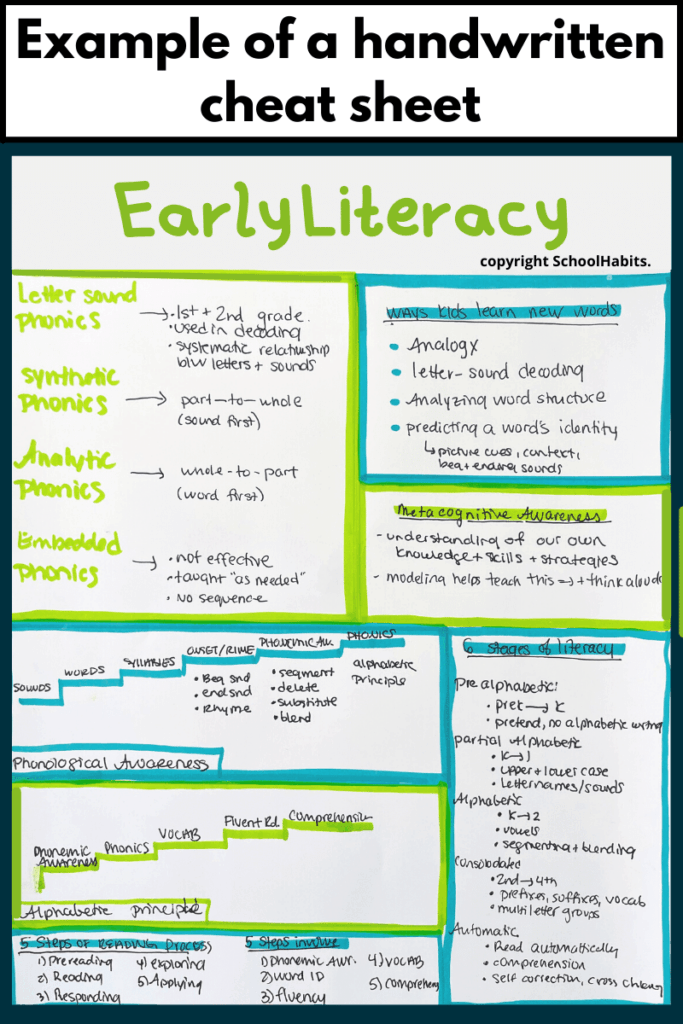 If you want, at the end of the unit, you can type up your cheat sheet in preparation for a final test. Redoing and reformatting your cheat sheet digitally right before a test can be a helpful way to study.
What to put on your cheat sheet
Remember, don't put everything. Put only the most important things.
Important information that your teacher covers in class. (Here are 7 clues you should write something down)
Important info you pick up from your textbook readings, for homework or during class
Key items from notes you take during class
Key questions from quizzes throughout a unit
Key questions from homework worksheets or problem sets
Important formulas
Character names and traits
Key themes and symbols
Key terms and definitions
Key steps to solve a problem
Important figures, dates or timelines
Important concepts of theories
Key diagrams or infographics
You can have fun creating your cheat sheet. Use different colored pens for different types of information – like blue for definitions, red for formulas, green for people, etc. Use good quality, thick paper. Come up with a cool way to separate the information into different boxes. Make it fit your style.
But as always, a key school habit is to keep it simple.
IMPORTANT NOTE: Any time your cheat sheet gets messy or disorganized, redo it. Any time you redo it, use that time to review what you have on there and cut anything that no longer seems important.
How to use a cheat sheet: 3 ways
You made a cheat sheet! Good for you. Now you need to know to use it.
As you build your cheat sheet over time, you'll find that it will become more and more helpful to you.
Homework tool. Keep it by your side as reference as you do your homework. As you do your homework, be on the lookout for information that you want to add to your cheat sheet. The cheat sheet is meant to help you get through your homework.
Study guide. Cheat sheets make awesome study guides at the end of a unit. To study for a test, you will want to consult all of your class notes, but the cheat sheet is where you'll find the most important info.
Open-note-test reference. Some teachers allow students to use a cheat sheet for open-note quizzes or tests. If your teacher has different rules about what she or he allows you to use on the test, you can just modify your cheat sheet to fit your teacher's criteria. For example, if you're only allowed an index card, then remake your cheat sheet to fit those dimensions.
What a cheat sheet is NOT
This goes without saying, but I'm going to say it. A cheat sheet is NOT for cheating. Cheating is messed up. If you feel you have to cheat, then it's either because you don't care (oh dear) or you don't feel that you're capable of learning the material (also oh dear). If you think cheating is the only way to get through a test, then watch this video about asking for help.
Why cheat sheets work
The process of creating a cheat sheet enables you to learn material as you are being taught. (Most people study information only right before a test, which is the worst, most ineffective study method ever.) Every time you add or remove items from your cheat sheet, you think about the material. And every time you think about the material, you process it a little more. And what is processing? Learning!