By Katie Azevedo, M.Ed.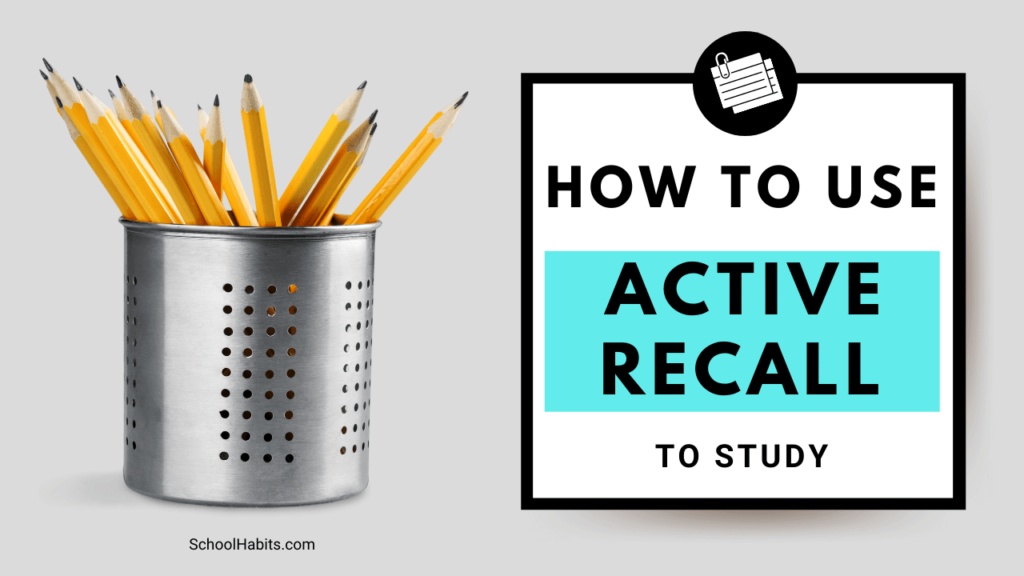 Active recall is one of the most effective study methods there is. If you're a student of any age, or even if you're an adult taking professional development courses, you need to know how to use active recall to study.
What is active recall?
Active recall is a study method that involves deliberately trying to remember or retrieve material you're learning. Warning: It can be very uncomfortable. In fact, strong cognitive discomfort while using active recall methods is a sign that you are doing it correctly.
How to use active recall to study
You should be using active recall throughout your entire study process. It's best used together with spaced repetition, which means you should use active recall over the course of at least a few days before your test. If you're thinking that's bonkers, you need to use my ultimate 5-day study plan.
In order to use active recall correctly, you need to design your study materials in a way that allows you to access prompts and questions without seeing the answers or explanations. You can also use active recall with a study partner. In the following section, I outline various active recall techniques that you can experiment with.
Here's the process for using active recall to study
Design your study materials so that you can only see prompts and questions, no explanations or answers (see the following section for ideas).
Looking only at the question or prompt, try to recall all the information you know about the topic.
It's okay to pause and think and become uncomfortable.
It's okay if you feel the information is "on the tip of your tongue." This is exactly what is supposed to happen.
Resist the temptation to look at the answer until you are absolutely certain that you must.
Read the answer carefully. Think about it, read it aloud, say it again, think about it again. And then put the question away.
Move through all your questions in this way, repeating questions and prompts until you know them all.
Again, it is supposed to hurt a little!
What are some good active recall methods?
There are a variety of active recall methods you could try during your next study session. In fact, the more study techniques you use, the better you will learn the information. The most important rule to remember is that you CAN'T look at the answer when it gets uncomfortable. That is literally the entire point. Here's a list of some effective recall methods:
Make and use analog flashcards (here are 4 ways to use flashcards)
Have a friend verbally test you
Read questions / prompts and write the answers on paper
Take multiple practice quizzes (here's how to make your own quizzes)
Use digital quiz tools like Quizlet
Fill in blank study guides over and over
Fill in blank diagrams/maps/timelines
I can't emphasize this enough: Using active recall to study is supposed to be uncomfortable. When you're testing yourself (using one of the active recall methods listed above), and you're mentally straining to remember the answer to a question or prompt, you are strengthening the neural networks in your brain. Every time you force yourself to "reach back" into your memory for the information, you're carving that information into your memory.