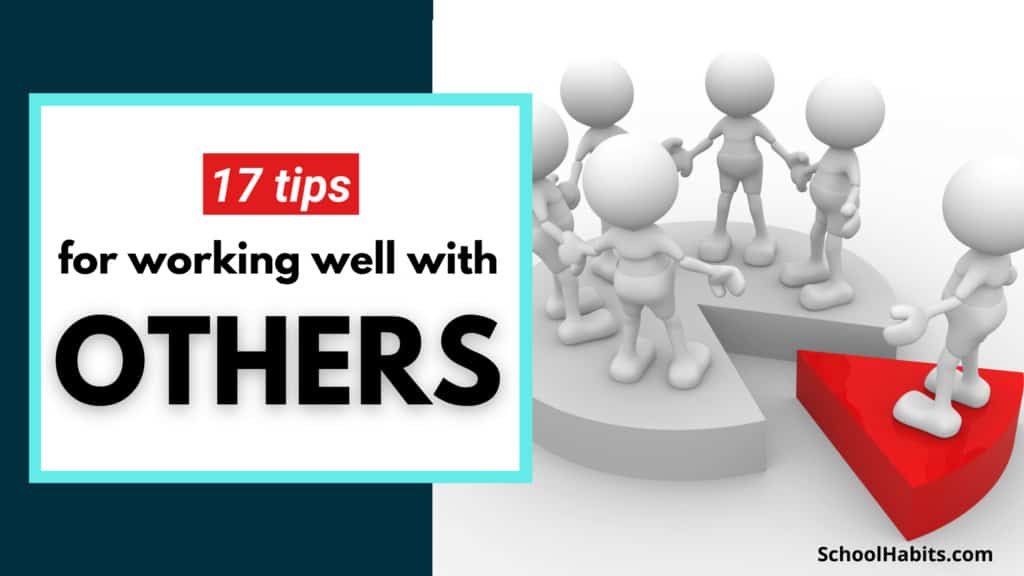 By Katie Azevedo, M.Ed.
Whether you're in school or at an office (or both), knowing how to work well with others is a superpower. The better you can work well with others, especially those with challenging personalities, the better off you'll be.
This tutorial is full of tips for working in groups, including group study sessions, projects with your colleagues or classmates, and meetings.
If you're a student looking specifically for tips on how to study in groups, then I highly suggest you start with these tips here, where I share in-depth strategies for managing group study sessions.
How to work well with others
Below is a list of practical tips for how to work well with others, whether you're in the workforce or in school. While not every tip will be relevant to your particular situation, you should be able to extract some value from each of them.
1. Reconsider meetings.
If you're scheduling a meeting, reconsider whether the meeting is even necessary. Can it be a phone call? A group email? If there are five or less participants, an email will likely suffice. Your colleagues or classmates will thank you.
2. Use meeting agendas.
Every meeting (or group study session) should follow an agenda. If no one volunteers, you do it. If you're in charge of the meeting or group session, create an agenda and send it via email to group members ahead of time. Here's a link to a free meeting agenda template if you want a place to start.
3. Respect people's strengths, weaknesses and quirks.
The individual strengths of each of your group members can enhance your group's final product. The more heterogeneous your group, the more ideas you'll collectively generate. While you may not personally connect with all your group members, and some may annoy you, approach every meeting or group session with the expectation that there will be personality differences.
4. Avoid using Reply All – almost always.
There are only a few situations where it's appropriate to use Reply All instead of Reply when you respond to an email. Even when you receive a group email asking you to respond to a question, use Reply to ensure only the original sender receives your response. Using Reply All in most scenarios is unprofessional and bothersome. Check and double-check the recipient field before replying to any email.
5. Assign roles during meetings and group sessions.
This tip doesn't have to be complicated or overthought. In general, any meeting or group session that has five or more participants should rely on roles. One person should at least be the time keeper / agenda master. This person is in charge of keeping the group on schedule, and making adjustments on the fly. Consider assigning someone as a note-keeper as well.
6. Anticipate that not everyone will contribute equally.
This reality is a bummer, but it's better to expect it than to be surprised by it. Unequal distribution of labor happens in school as well as in professional settings. We can only control our own actions, so there's no point in being disappointed in our colleagues or peers.
7. Set a start and end time.
Agree in advance on a clear start and end time for the meeting or group session. Write it down in a visible place so people are constantly reminded of the time.
8. Listen carefully to everyone.
Everyone has something to offer. Even if you don't personally get along with a member of your group, they could provide valuable insight or ideas. When someone is speaking, listen respectfully and don't interrupt. Use active listening techniques such as making eye contact and keeping your hands still while others are talking.
9. Welcome skill diversity.
If others in your group are less knowledgeable than you, you can fortify your own learning by teaching them. If others are more advanced than you, you can learn from them.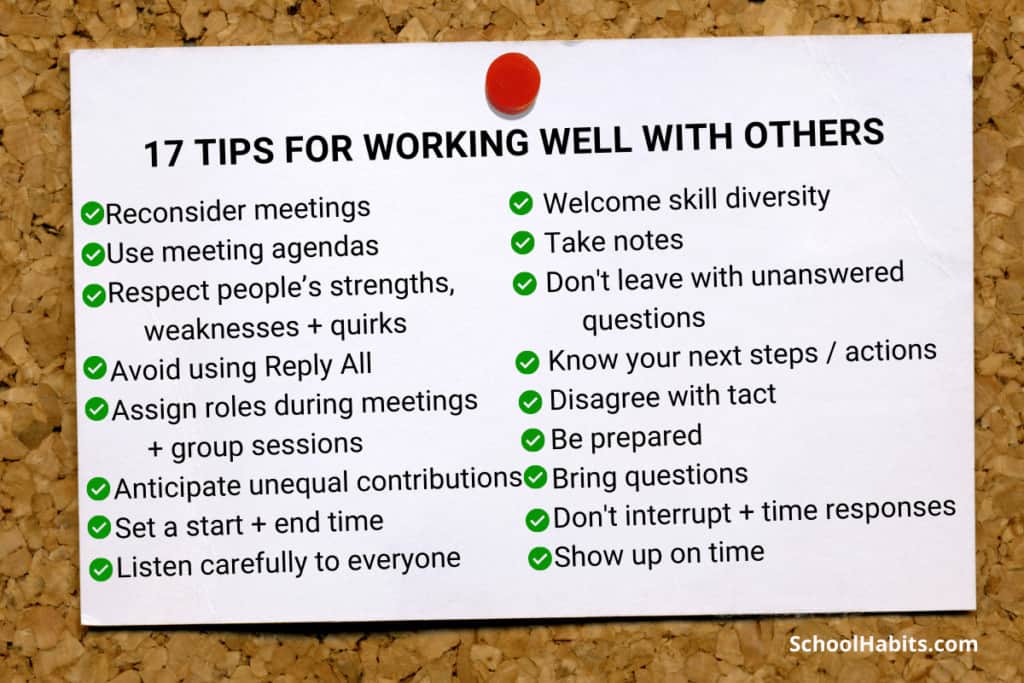 10. Take notes.
Even if there's a dedicated note-keeper, take your own notes. Keep it simple (abbreviations, bullet points, etc.). Don't be afraid to ask someone to repeat something if you missed it.
11. Don't leave the meeting or group session with unanswered questions.
If it's a significant question that you think others might benefit from having answered, speak up before the meeting is over. Be brief and concise when asking it, and ask it at an appropriate time. However, if the meeting is being run by your boss or superior, and your question could easily be answered by someone in the group besides your boss, you're better off asking a colleague after the meeting is over.
12. Know your next steps and action items.
If there are follow-up steps for you, then write those action items clearly in your notes at the end of the meeting. If you're unclear what your next steps are, see tip #11.
13. Know how to disagree with tact.
Disagreements will happen, so be prepared to handle them graciously. Try "Could you please explain that a little more?" or "I'm having trouble understanding how that could work – could you please clarify that?" These approaches reduce defensiveness in the other person. Here are 4 very important steps for effectively disagreeing with others.
14. Be prepared.
Nothing looks worse than not being prepared for a meeting or group session. Do your research beforehand, and bring the right materials.
15. Bring questions.
For group study sessions, bring a list of concepts you are still unclear about. For meetings, bring a list of questions you want clarified. If more questions arise during the session, write them down and ask them at an opportune time.
16. Don't interrupt, and time your responses.
There will be times when someone says something that tempts you to respond right away – either with words or support, embellishment or disagreement. However, it's never appropriate to interrupt your group members, even if you think what you have to offer is fascinating and helpful. In these moments, simply wait for the person to finish speaking. If you're afraid you'll forget what you want to say, quickly write it down. If another person begins speaking before you have a chance to respond to the original speaker, then wait for them to finish and then redirect your comments back to the original speaker with something like "I wanted to respond to something you said earlier …"
If your meeting or group project is not in-person, but rather via Zoom or conference call, it can be harder to avoid accidental interruptions. These tips from Forbes are helpful.
17. Show up on time.
Basic life skills here. Don't be late. If you have a tendency to run late or forget appointments, create a habit of using a calendar with a digital reminder.
Final notes on working in groups
Knowing how to work well with others can be just as important as what you have to offer your group. If you have terrific ideas but don't know how to listen actively to your group members, your meetings or group sessions won't run smoothly. If you have a unique skill set to offer your team but you're unprepared, show up late or don't know how to disagree with tact, then you're going to run into issues.
The biggest tip for working well with others is to stay respectful – respectful of others' ideas, time, personality traits, and unique contributions. A solid foundation of mutual respect between group members will always lead to more productive meetings and group sessions.