By Katie Azevedo, M.Ed.
Remote learning and hybrid learning have their challenges, particularly for students who have never taken online classes.
Remote and hybrid learning also require that students more independently manage their work, systems, and discipline. For many students, this is not easy.
Below are10 tips for remote learning and hybrid learning. They apply to students in elementary school through college, and can help students transition more smoothly to this new way of education.
Student tips for remote learning and hybrid learning
1. Create your study space.
Now more than ever you need a space strictly for school, away from distractions. This should NOT be your bedroom, unless that's your only option.
IMPORTANT: Set up your space according to your learning style:
If you're going on a camera, position your computer so that the light is in front of you, not behind you (see image below). Be aware of what's in the background; if you're on camera, people can see what's behind you.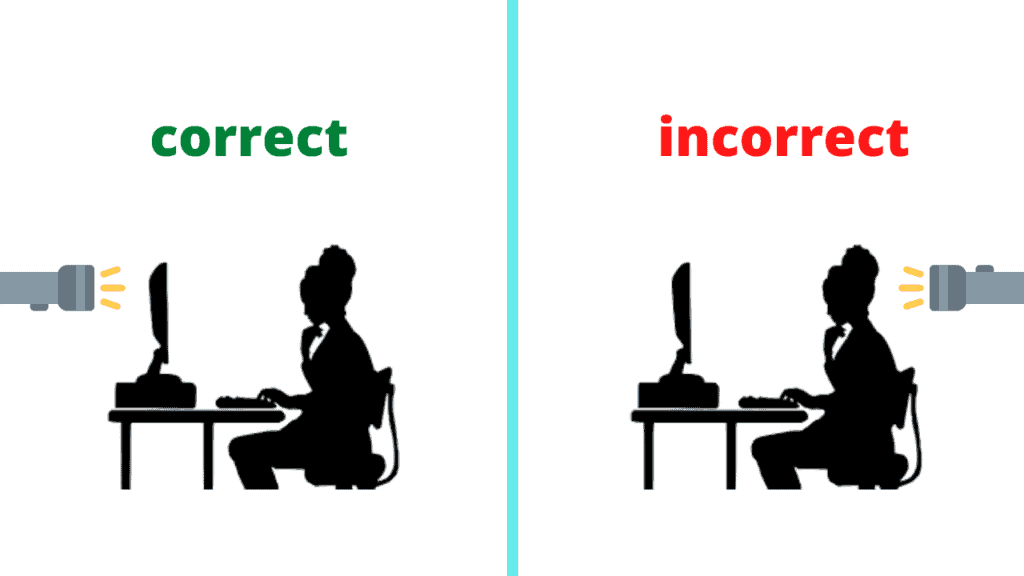 2. Have the right supplies.
Remote learning still requires traditional back to school supplies like paper, pens, notebooks, folders, and highlighters. You're going to need a camera, chargers, a mouse and mouse pad, maybe a keyboard or stylus if you're using a tablet.
Back to school supplies for remote or hybrid learning also includes apps:
Note-taking apps like Notability, OneNote, Notion
Scanner app like DocScan, Adobe
Storage and file management like Google Drive or Evernote
If you're going to commit to using an app, download it on all your devices – including your phone.
3. Use a document naming convention.
With remote learning, you're going to have lots of digital documents – Google Docs, Word docs, Google Slides, etc. Digital files add up quickly, so it's important to have a simple system for naming these documents in order to search for and find them later.
The naming convention I suggest is simply the name of the class, followed by a descriptive title of the item.
Good example: English The Things they Carried Essay.
Bad example: English essay
4. Have a visible daily and weekly schedule.
With remote learning, you might need to log into a live science class on Monday morning at 9:00, and math class at 11:20, and then on Tuesday math might be at 12:25, etc. Your schedule might be different each day, so you need to have a visible schedule – on paper! – where you can see exactly what time you need to log into your classes.
If you're doing a hybrid model, (going into a real classroom on some days and online stuff other days) you need to have this information (exact days and exact times) somewhere easy to see.
5. Keep an assignment notebook.
Most schools use a learning management system (LMS) like Google Classroom, Canvas or Blackboard to host assignments. But those systems are only as good as the information put into them.
In other words, not all teachers use those systems consistently.
Also, these platforms work chronologically, meaning that they push down assignments and notifications to make room for new ones. So if an assignment posted last week is due a week from now, it's going to disappear from sight.
You need a way to track assignments that's not dependent on someone else: that would be an old-school assignment notebook or planner, something you are in charge of.
I have created a variety of agenda and planner one-page printables that I've designed specifically for remote and hybrid learning. I also have weekly homework planner printables to replace your unreliable LMS.

If you want something more robust than a one-pager, then get a simple assignment notebook with daily and monthly sections.
6. Keep a list of logins and passwords.
Remote learning comes with website subscriptions, classroom codes, new apps, and programs like Kahn Academy and iXL. As you sign up for these websites, create a list of your login info and passwords.
NOTE: Keep this list in two places: 1) in a digital document for easy copying/pasting of difficult passwords, and 2) a sticky note next to your desk for quick reference.
7. Get the personal contact info of at least one person in each of your classes.
Not all questions are meant for your teacher. So get the name and contact info of at least one person in each of your classes so you have a quick, informal way to ask questions on the fly.
8. Use scholar.google instead of regular google.
When you need to find reliable, academic information for essays or research projects, a regular google search will give you absolutely everything under the sun – real or fake – published by legit scientific institutions and by unreliable and unverified sources. So if you want real academic results that your teacher is likely looking for, use scholar.google for your research.
9. Establish a Sunday routine.
Remote and hybrid learning requires excellent organization of both physical and digital materials.
To stay organized, I suggest you start a 45-minute Sunday routine during which you do the following:
Plan out your week.
Fill out your calendar with days and times you need to be somewhere or login to class.
Go through documents to ensure they have proper names according to your naming convention. Name all untitled documents.
Clear out your downloads folder.
Print documents you might need for upcoming classes.
Go through your folders – actual ones and digital ones – and get rid of duplicates and junk.
Clear your workspace.
Go through your assignment notebook and make sure you didn't miss anything.
Make sure you actually submitted all the assignments you were supposed to turn in from the week before.
Check your email for notifications about the week ahead. Delete junk emails.
10. Ask for help early.
Of all these tips for remote learning, this one is probably the most important.
Remote and hybrid learning means, for most students, less face time to ask teachers for immediate help. It also means less chances of a teacher walking by your desk, noticing that you're struggling, and then offering you help in the moment.
Asking for help during online learning is going to be on you. The best tip I have is to NOT wait. Here are 4 specific ways to ask for help. If you are confused about something, email the teacher or show up to her online office hours right away. If you don't understand one thing, and then the teacher moves onto the next thing, you're going to end up confused and stressed out.
Remote and hybrid learning is new for some of us, and if it's new to you, there's going to be a learning curve. It might be messy in the beginning, and that's okay. The key is to be honest and recognize when it's getting messy and then do something about it. If something isn't working, you have the power to change it.
Remote learning isn't going anywhere. So while I am hoping that we can all get back into the classroom as soon as is safely possible, I'm sharing these tips for remote learning and hybrid learning with the idea that they will be relevant for a long time.