By Katie Azevedo, M.Ed.
I've covered note-taking strategies more than any other topic on my blog and YouTube tutorials. That's because taking notes is a pillar of learning, no matter your situation. Taking notes is also super important for professionals to master – so whether you're a student or a worker bee (or both!), read on.
This post isn't so much about how to take notes as it is about how to keep your notes organized. If you need help with your basic note-taking strategy, then start here. If you have ADHD, then after you read the tips below, check out this note-taking strategy for ADHD.
If your notes are sloppy, disorganized, misplaced, illegible or incomplete, they're useless. Below are some practical note organization ideas for keeping your notes organized so that they actually … work.
Note organization ideas
The following note organization ideas will help you keep your notes in a constant state of clarity and usefulness. I suggest you follow all 7 strategies, but starting with just one is better than nothing. When you're done with this post, you should learn about taking notes from a textbook with these 11 strategies.
1. Consistently take notes in the same location.
You should have a dedicated notebook for each class, one that is strictly for taking notes. Your notebook can be analog or digital, but it should not be both. In other words, you should not take half your science notes in Google Docs and the other half in a paper notebook; pick a system and commit. Whatever notebook you choose should have one singular purpose: to take notes.
2. Plan time to rewrite your notes.
Out of all the 7 note organization ideas in this list, this tip is by far the most important.
Note-taking is not usually a one-and-done process. Sure, you might see insanely beautiful and artistic academic notes on Instagram, but I'm assuming you know those works of art are hardly ever the first draft. The first step in note-taking is capture, which is the often-messy process of frantically writing things down in some way that makes a little sense. But people often ignore the second part of the process, which is note completion. This is when you go back to your messy first-draft notes and clean them up. This often means rewriting them. At this point, you'd fill in missing information, reorganize the order of concepts, and generally jack up your notes. You should try to complete this process on the same day that you take your notes; otherwise, the information will no longer be readily accessible in your working memory.
3. Use quality note-taking tools.
Do not confuse quality tools with expensive or complicated tools. You should invest in some simple quality note-taking tools like notebooks with sturdy paper, smooth pens, and highlighters that appeal to you. If you're a digital note-taker, you might prefer an up-leveled note-taking program, but I'm a huge fan of good ol' Google Docs.
If you're looking for a good note-taking notebook, these ones are my absolute favorite ones ever. It's a discbound system, so notes are easy to rearrange. No affiliate link or sponsorship here – just a pure and honest recommendation.
Want to super boost your organization? Here is my ultimate list of the 100 best organization tips for college students.
4. Always date and title your notes.
For analog notes: always put the date and a topic at the top of every page. Format this heading the same way each time, and put it in the same location at the top of the page each time (for example, centered, top left, or top right). See the image below for heading ideas. For digital notes: name your files according to a consistent naming convention. You can put the date in the file name or on the top of the document itself.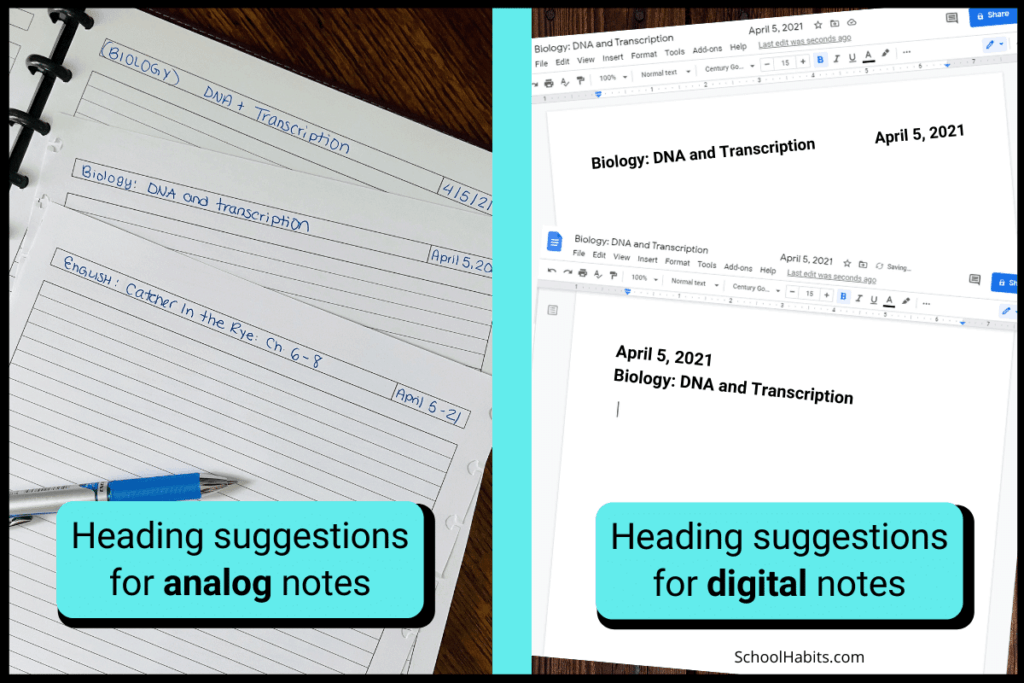 5. Leave extra spaces.
Leave at least one line between every note you take, with the exception of bullet points. See the image below. These extra spaces will not only let you quickly recognize distinct parts of your notes, but they also provide you with room to draw arrows, boxes, etc., or even to take micro notes on your actual notes. Yep, that's a thing.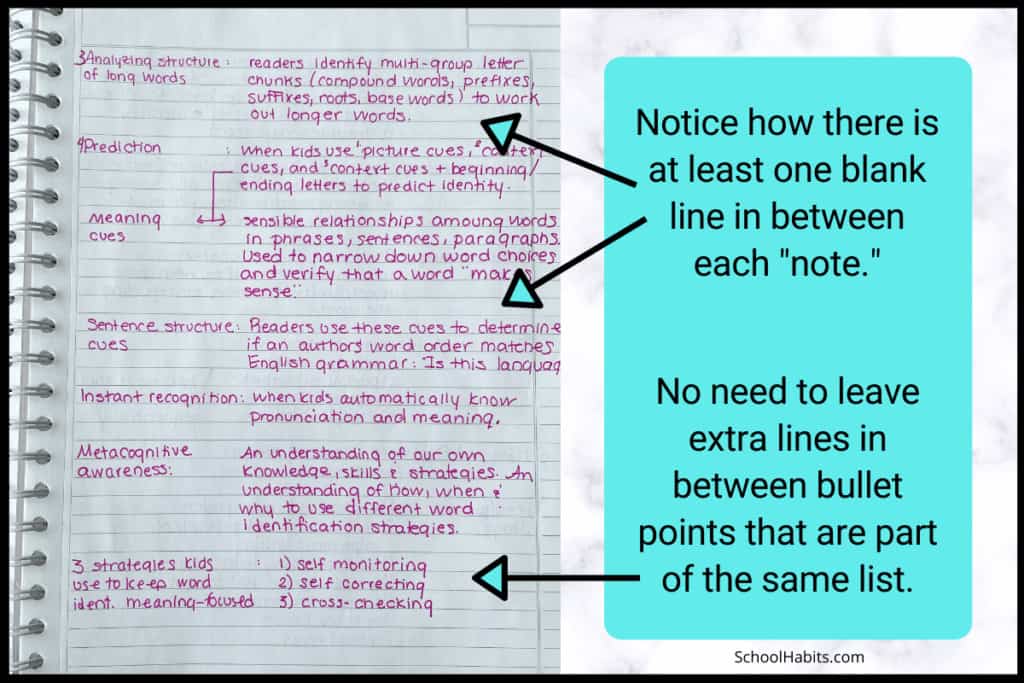 6. Use a simple pull-out feature.
Pull-out features are an excellent way to keep your notes organized. Digital notes and analog notes should have at least one pull-out feature that emphasizes certain types of information. A pull-out feature could be a box, a circle, a squiggly underline – anything that draws attention to a part of the text. See an example in the image below. Depending on the complexity and subject matter of your notes, anywhere between one and three pull-out features should be enough.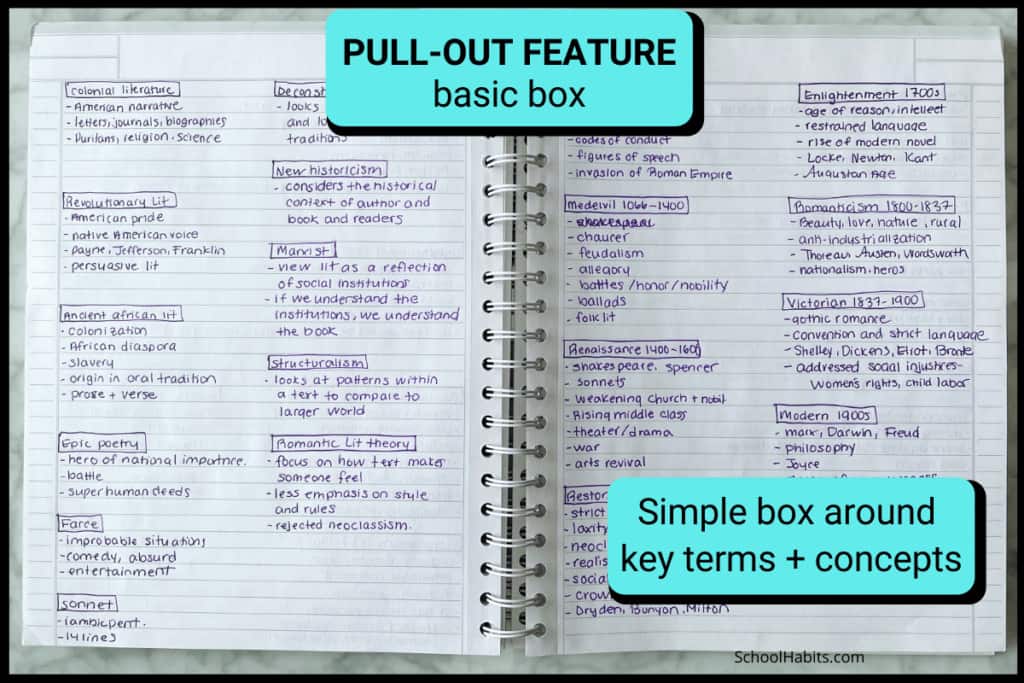 7. Store your notes properly when done.
At the end of a unit, after a unit test, save your notes for your midterm or final. To do so, gather all your notes from a unit, clip them together (if they're analog), and store them somewhere out of the way but easily accessible for when you will need them again. If you're taking notes in a notebook, you can either tear out the pages (I think I just heard some of you gasp) or you can simply clip the pages together. Over the course of a semester or two, you should have several "packets" of organized unit notes that will come in handy when studying for your midterms or finals.
Here is my complete guide on setting up and organizing a school binder. These note organization ideas are useless if you don't have a proper system for storing them.
Keeping your notes organized is not a one-and-done thing. It's a daily process that you have to think about each time you take notes. But as always, it's the small daily habits that have the biggest payoff. Try these note organization ideas and see where they lead.