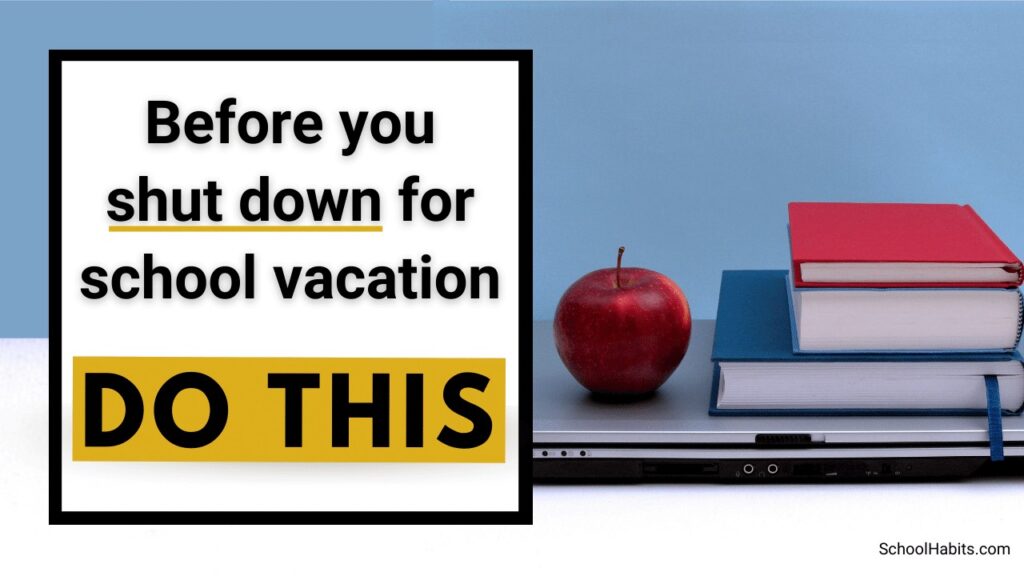 By Katie Azevedo, M.Ed.
School vacations come in all shapes and sizes. I also know that the moment any of these vacations begin, you're slamming your device closed, chucking your backpack in the closet, and disconnecting from school entirely. I am all for the last part – disconnecting from school entirely – but not until you tie up a few loose ends.
Whether you are looking forward to a long weekend, winter break or spring break, there are a few steps you should take before you shut down for school vacation.
What to do before you shut down for school vacation
These steps don't take long, but they make a huge difference when you return to class. (Shutting down for the summer? Follow these steps instead.)
1. Close all the open tabs on your device.
Give your device a vacation too, and close down every single tab you have open – even the ones you never close, like YouTube. (I see you.)
2. Delete files on your digital desktop and in your downloads folder.
These two digital locations are garbage receptacles that fill up quickly. Delete most of what's in there, and if there are any important files remaining, move them to Google Drive or OneDrive.
3. Clean your backpack or school bag.
Before you shut down for school vacation, take everything out of your bag, empty all the pockets, and then take your bag outside to shake upside down. (Ew, what was that?) Throw away trash and squished papers at the bottom of your bag, and then put back everything neatly. Here are the other 8 items you should clean before vacation or extended time off.
4. Write Status Notes on all open projects.
I'm a die-hard believer in using status notes (if you've never heard of them, it's because I made them up). Anytime we stop in the middle of a project and won't be working on it for a while – such as over vacation – we want to leave ourselves a brief note so we know where to pick up after break. (No, you won't remember, and nor should you expect yourself to.) If we don't write down this information, we spend our vacation time with open cognitive loops, which can make us anxious. (This is connected to what's called the Zeigarnik Effect, which can have positive and negative consequences.) Here are all the details about writing and using Status Notes.
5. Update and shut down your device.
There's nothing more annoying than coming back to your device after a vacation and realizing that it needs an update … the very moment you need to log in for a class. Before you shut down for vacation, scan for any software updates and do them. Next, give the keyboard and screen a good cleaning. Then, properly power down your device. I don't mean just close the cover; I mean go through the actual steps of shutting down the device, and then close the cover.
What to do 1-2 days before you go back to school
Bummer – vacation is over. Now what? One or two days before you go back to school, I suggest you do the following:
Power up your device and plug it in to charge.
Do a quick email check for important notifications. (I mean, what if you got an email over vacation announcing an extended vacation?! We wouldn't want to miss that, would we?)
Figure out your schedule for the day you return from vacation. What time is your first class, where do you have to be, etc.
More resources
If you're coming to the end of your school year, use these 5 tips for finishing your school year strong.